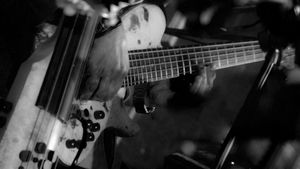 Simon Sammut
Simon started his initial studies at a young age and reached advanced levels of music education. After some lessons with his father Joseph, who himself was an established bass player during his young days, Simon continued to study bass playing and soon established himself as a popular bass player.
He quickly moved from playing rock to blues, soul, funk and jazz. Later on he began to play the upright bass. As a performer, he has played with leading musicians and covering a wide span of musical activities. As he is a fluent reader and a versatile musician with an eclectic taste, he is quite active in various events of importance and has for quite some time now played with various, musicians, bands and orchestras including the Malta Philharmonic Orchestra.
Besides his work as a performer, Simon is equally at home in the roles of composer, arranger, producer and music teacher.
In 2011, Simon produced and released his solo album entitled "BaSSic Attitude". In this album Simon collaborated with multi-instrumentalist Alexander Kuzmin.
In 2017 Simon released his second album entitled "Crossing" with twelve compositions and complimentary paintings revolving around the common theme of 'crossing'. In this project Simon collaborated with the artist Anthony Catania.
Simon was invited by the Secretaría de Turismo y Cultura Morelos and the Centro Morelense De Las Artres to conduct a series of activities in the city of Cuernavaca Morelos (Mexico) with the purpose of sharing his experiences and skills with the musical artistic community of that City. Along with his collaborator Omar Vázquez from Mexico, they generated eight themes, which reflect the musical tastes, sounds and feelings of the two artists. They finalised and released their first album together as a duet called "Gravity" which involves musicians from Malta and Mexico. The album covers different sonorities and styles like jazz fusion, funk, latin, world music among others. The eight compositions were performed live for the first time in Mexico in April 2019.